Sponsorship & Charity
At The Mortgage Shop we firmly believe in supporting and working closely with the community where we are located.
So we regularly get involved in sponsoring local teams, organisations and events as well as doing our bit for local charities.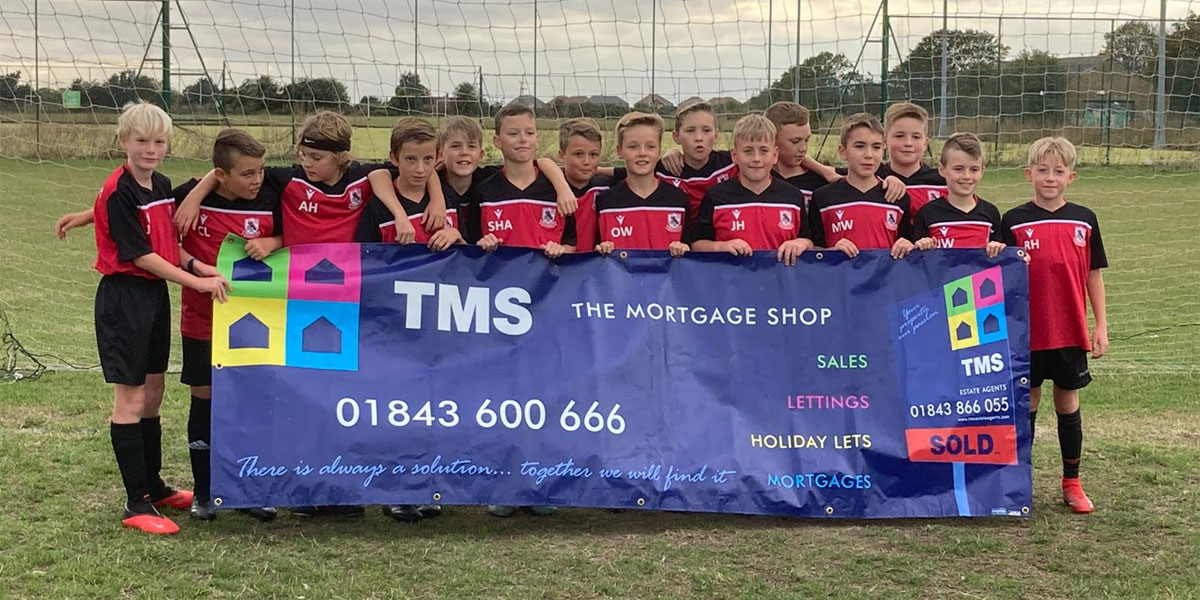 Sponsoring Ramsgate FC Under 13s (Green)
Here at The Mortgage Shop, we love to get involved with local organisations, especially sports clubs.
We are sponsoring Ramsgate FC Under 13s (Green) and here is a picture of the team.
Louie's Helping Hands Golf Day at Westgate Golf Club
On Friday 17th May we were one of the main sponsors of the Louie's Helping Hands Golf day, held at Westgate Golf club.
We entered a team who accumulated 116 points between them and although this wasn't a winning score it was a great day, enjoyed by all and for a great cause!
This a charity close to The Mortgage Shop's heart and we know they would be very grateful for any donations.

Cambodia to Vietnam 400km Charity Cycle Ride Raises £3k
On the 11th March 2017, Julie and I completed our 400km cycle ride from Ho Chi Minh City in Vietnam to Angkor Wat in Cambodia.
The ride was challenging but hugely enjoyable. We managed to raise £3k and thank you for all of you who donated.
One of my charities was Louie's Helping Hands and you can see us handing over 50% of the raised funds to Louie's mum Sarah at the Llewellyn school.
I am delighted to say that we have a fantastic picture of some happy boys in Ethiopia wearing a football kit that we at the Mortgage Shop donated to them.
We have a very good client, Kate Mockeridge who with a very dedicated team of other midwives went back to Ethiopia for one of their numerous trips to help educate women in child birth procedures and also train the local doctors and midwives.
As you can see from the state of the pitch, that these smiling boys who had their picture taken with Kate, don't have much in life, but love their football. As we are all big supporters in our company of the beautiful game, we were delighted to provide a football kit (there are socks and shorts in their hands) as Kate had mentioned how they love to wear anything to do with football.
As Kate and her husband Peter, along with other midwives and their husbands volunteer to do these trips in their spare time, we felt this was the least we could do. We are in awe of the dedication that Kate , the other midwives and their partners show in travelling regularly to Ethiopia and as Kate said, 'something that we consider quite trivial makes these boy's year'!
The Mortgage Shop supplied and sponsored the girls football team at one of our local schools, Palm Bay Junior School in Margate, Kent.

North Foreland Golf Club Pro-Am
For many years, The Mortgage Shop have sponsored the prestigious Pro-Am golf tournament at North Foreland Golf Club. The golf club, which has formerly been a qualifying course for The Open as recently as 2003 runs the Pro-Am event every year inviting professional golfers from all over the county who play alongside club members and invitees, including our own Steve Cleaver & Arthur Fairhall.

The Mortgage Shop normally charge a fee for mortgage advice. However, this will be dependent on your circumstances. Our typical fee is £374.
YOUR HOME MAY BE REPOSSESSED IF YOU DO NOT KEEP UP REPAYMENTS ON YOUR MORTGAGE.